Animation animation animat8.ion. We all love it, we all seek it, and we all wish we could be better. But wishing is not the same as knowing how to animate better. How to nail the dynamic scenes. To create a swinging Spiderman. To make a truly dynamic shot. Many animators instinctively discover the tricks for this through practice. Some are instead like me: and discover these tricks through a second source. A tutorial or blog like the one you are reading.
It is my hope that by compiling all this information into one area for you all: it will inspire you to make that leap. 'I can't animate' is an excuse. In the words of Gusteau:
Anyone can animate: but only the fearless can be great. Yes. That means you too. You can be great. Amazing even. Anyone can.
---
What is an animation scene, and the animation camera? Why does this matter with 2d?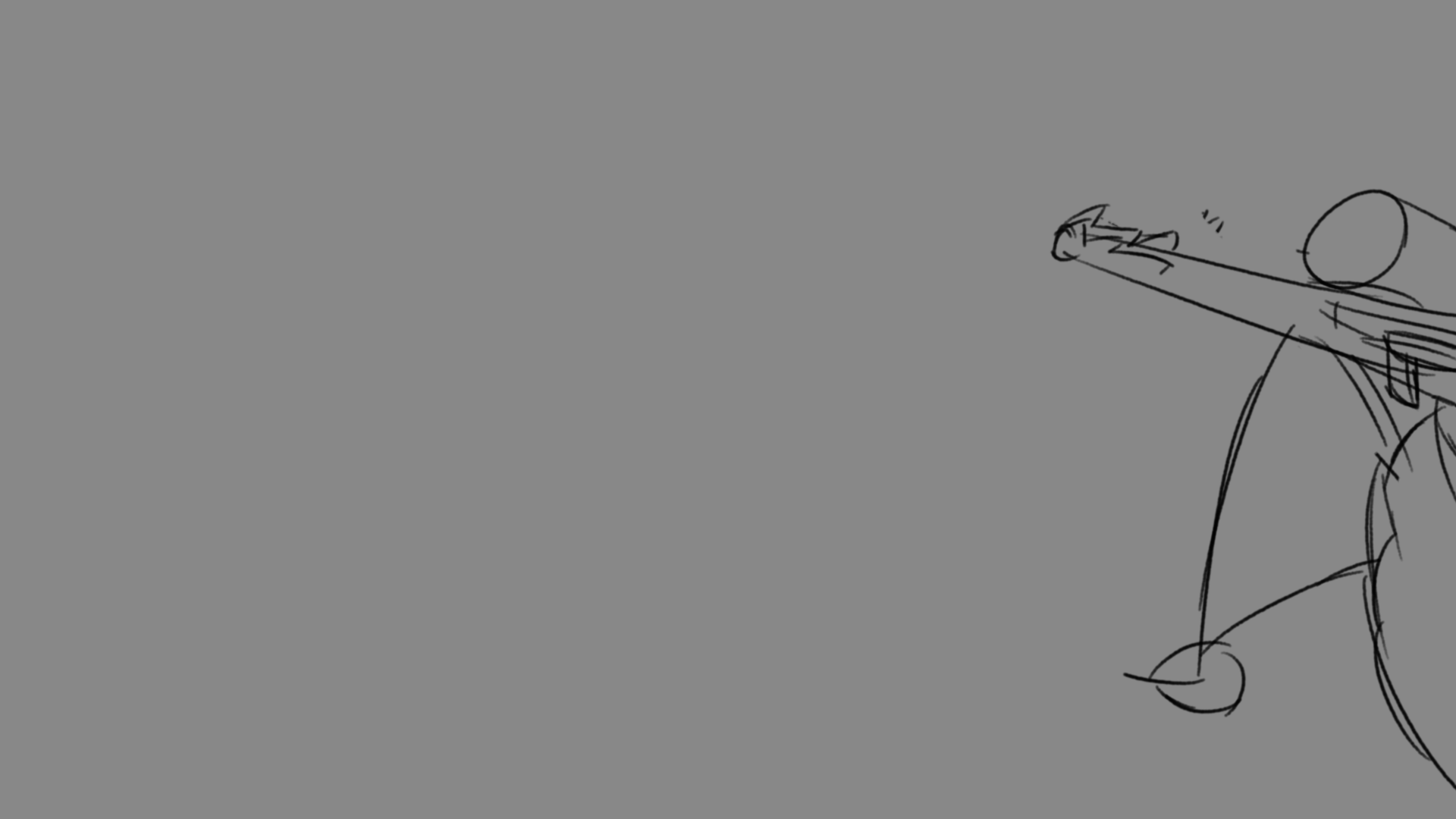 Despite common knowledge: even 2d animation has a camera. It is merely that 3d can 'show' the camera as it has the 3d space for it. With 2d: your white space where you draw can be seen as the camera lens.
A 'scene' is as follows: how long the camera remains focused without a 'cut' In the example below: there's 3 scenes: the wide shot, and the two close ups.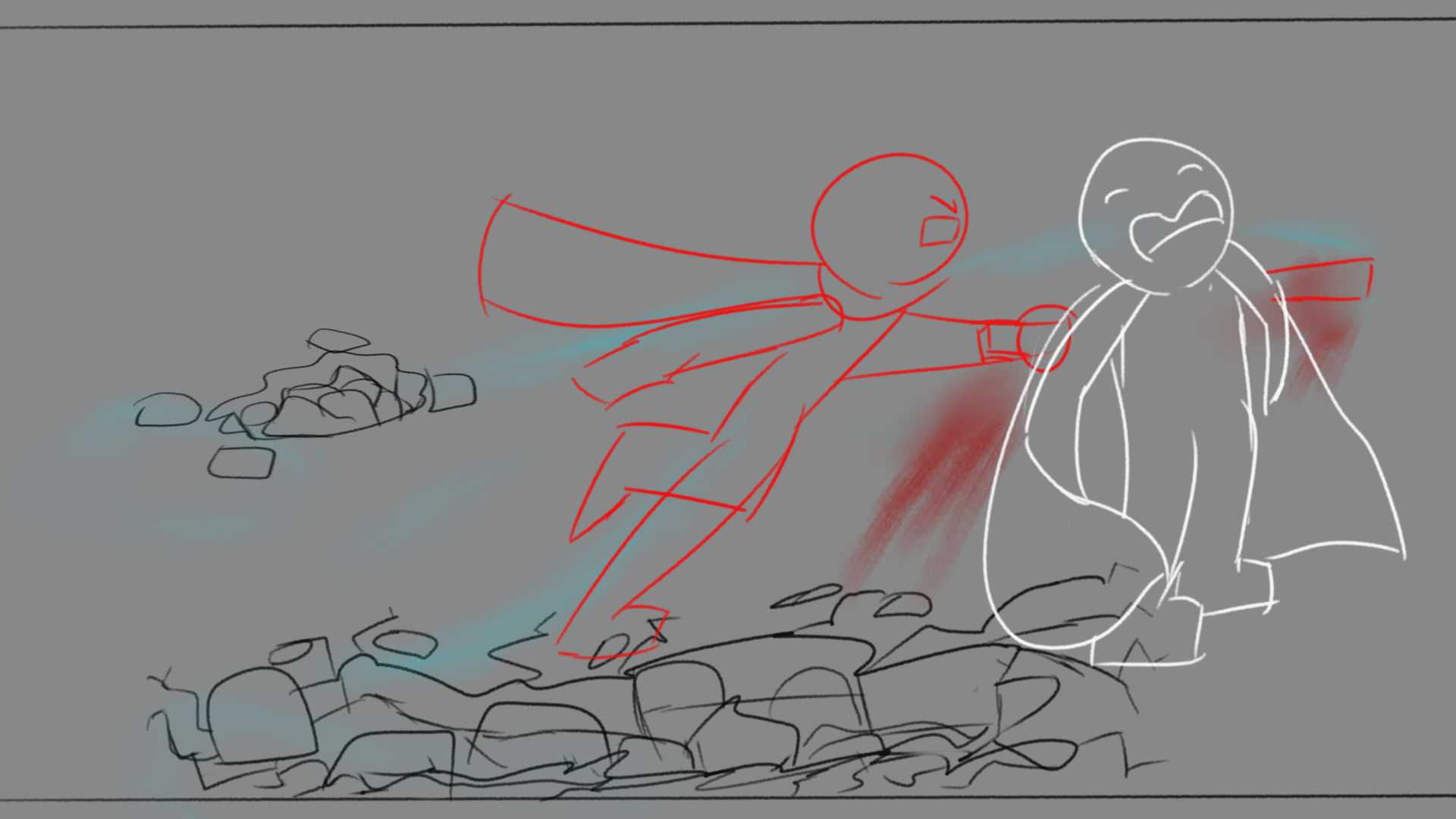 Understanding the 'scene' of your animation will become more important below.
---
The 180* Rule and why you should love your camera.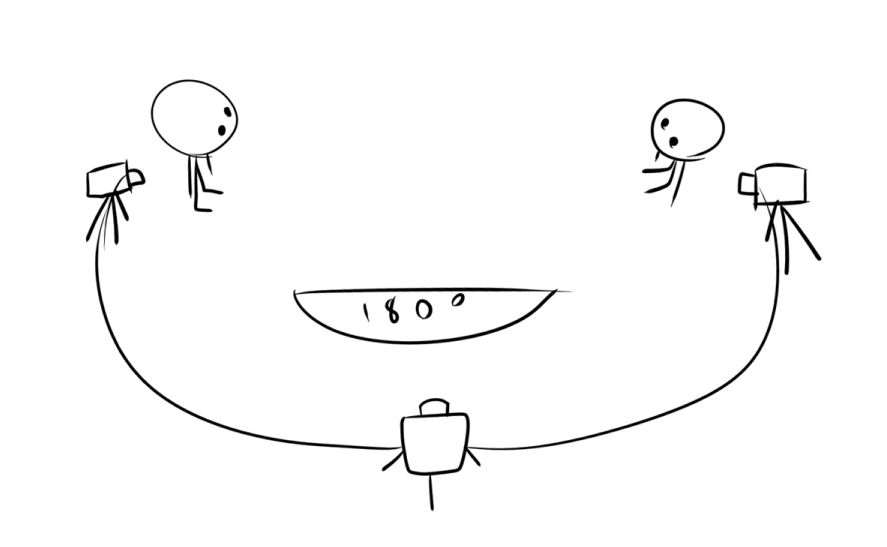 In an action scene: it is very important that a viewer can quickly and easily tell where things are to understand what is going on. One of the tools filmmakers use to achieve this is the 180* rule. By animating only in this 180* circle, including pans up and down: you are able to easily keep an audience member along for the ride no matter the chaos. Think of it like a circle.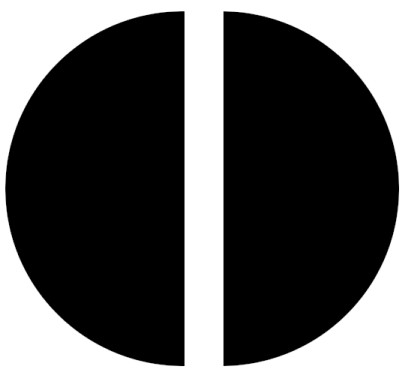 As long as you remain on your side of the circle: the action is easy to follow. Compare these two shots side by side for comparison.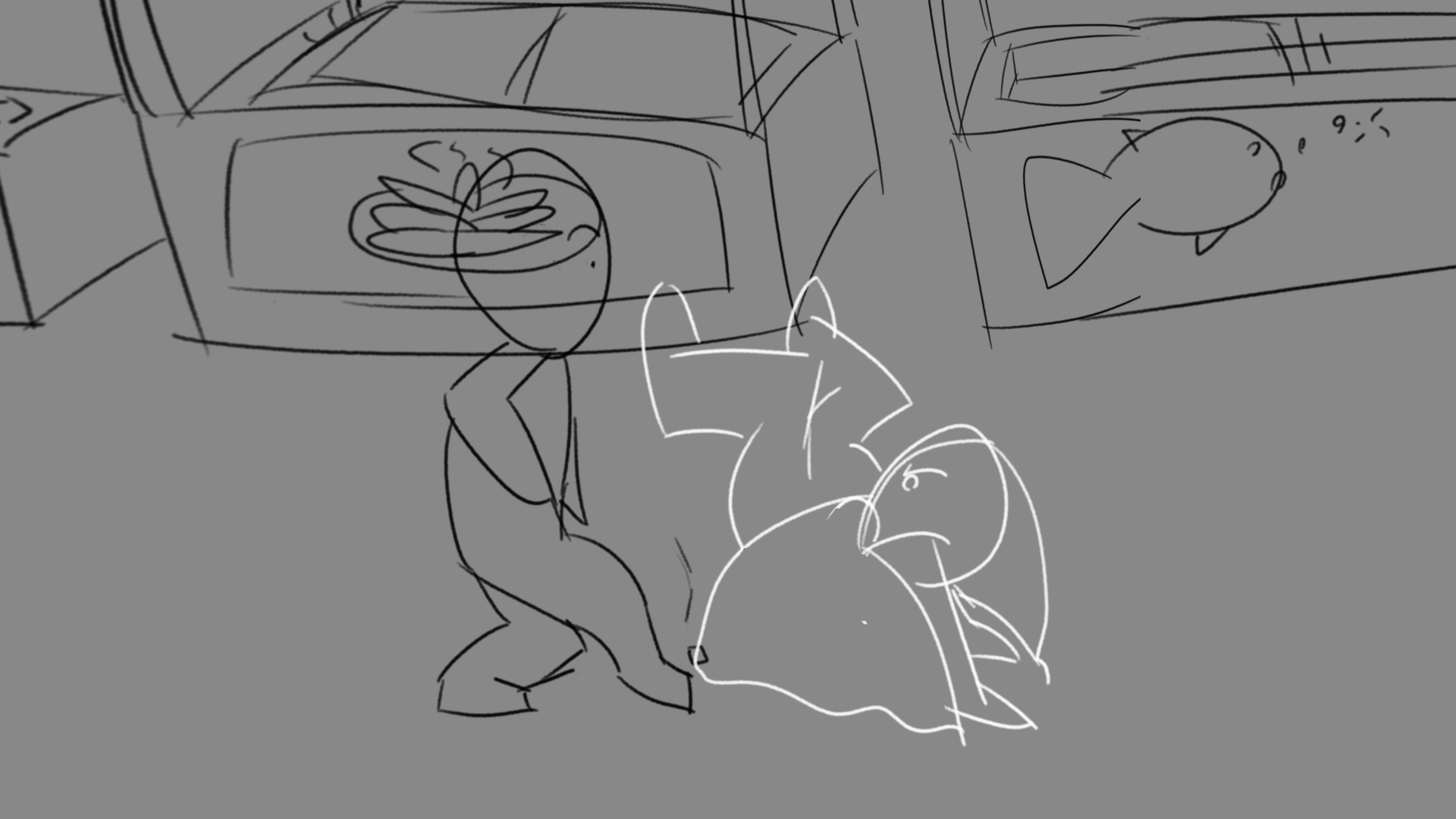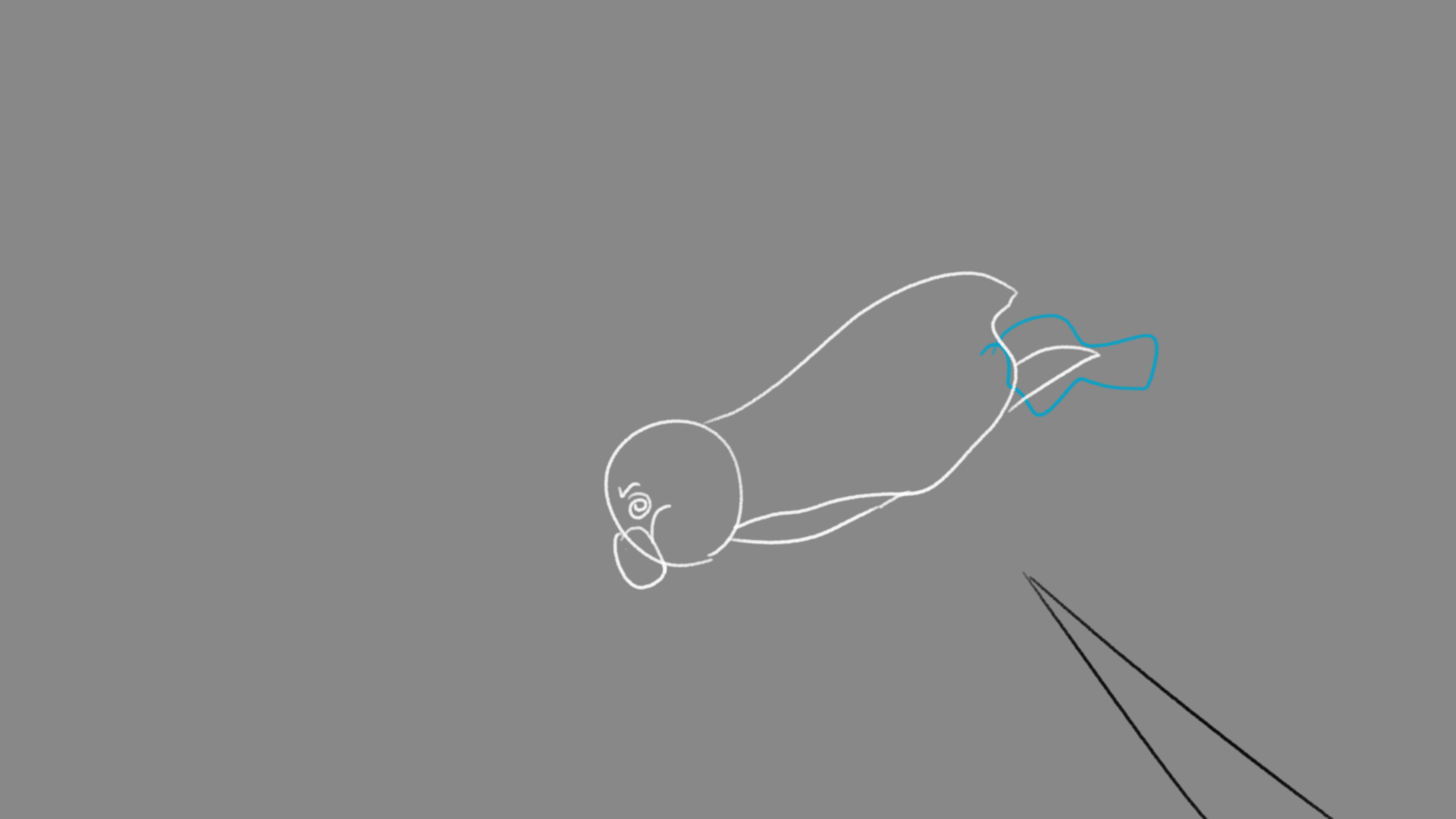 That's not to say you have to follow this rule to the letter. Think of it like a narrative shorthand. It is a tool you can use.
---
When to break the 180* rule and how to break it smartly.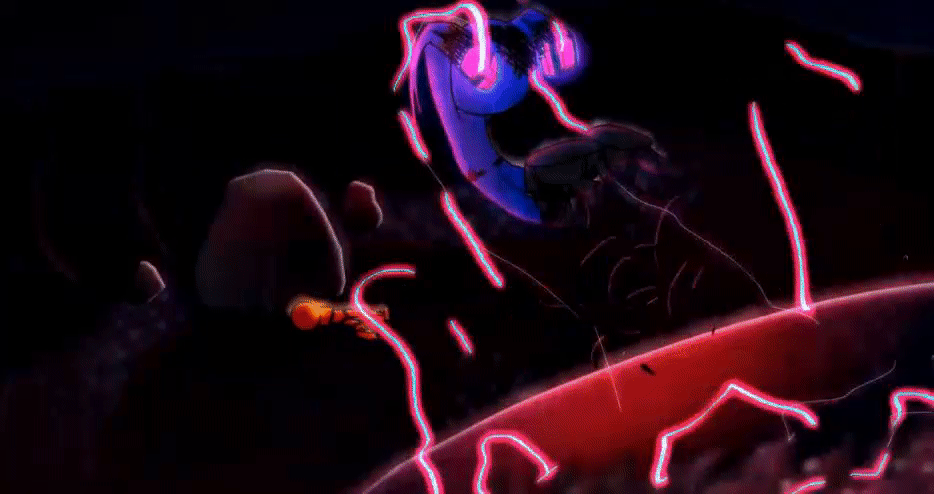 This shot above: despite the angle: doesn't break the 180* rule. It instead establishes a 'break': where we know where both characters are: and are able to follow the camera around as it shifts.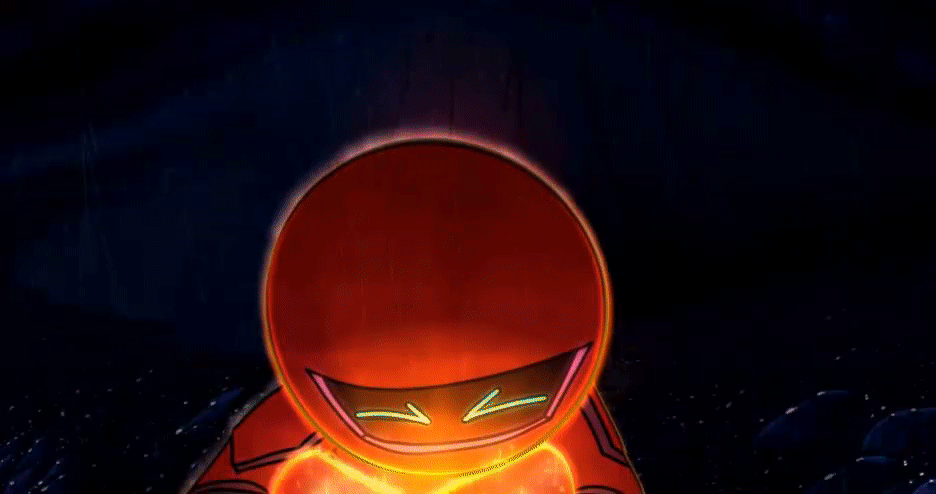 The camera pans past the 180* point, and we see Gildedguy turning to meet Oxob. But because we established -where- Oxob was: we're able to follow the action even as we break past the circle.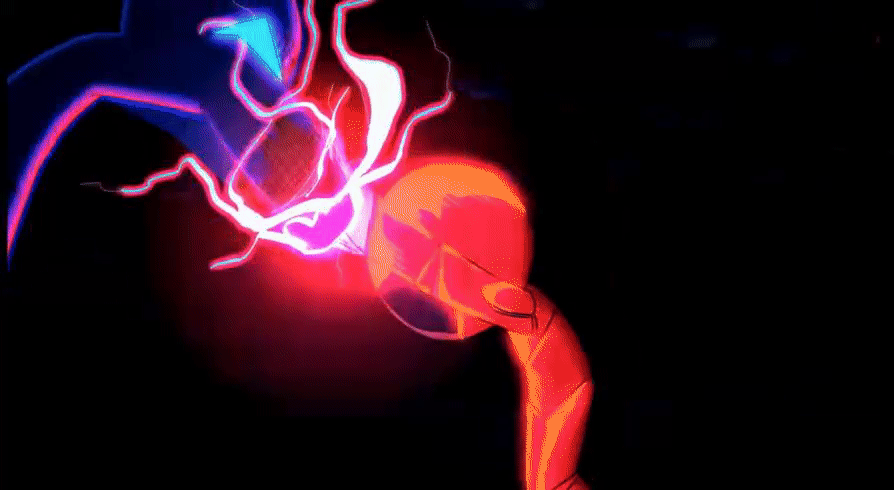 And for the scenes after: the characters remain once more on the newly defined 180*. Namely: Oxob is left, and gilded is right.
---
The left and the right. (Or: Contrast of Continuum movement)
Stepping back a bit: let's also take note of the left and right side of the screen. For most of the animation: Oxob remains on the left side of the screen. While Gildedguy remains on the right. This is also a helpful tip. It helps with transitioning from closer shots to father away ones.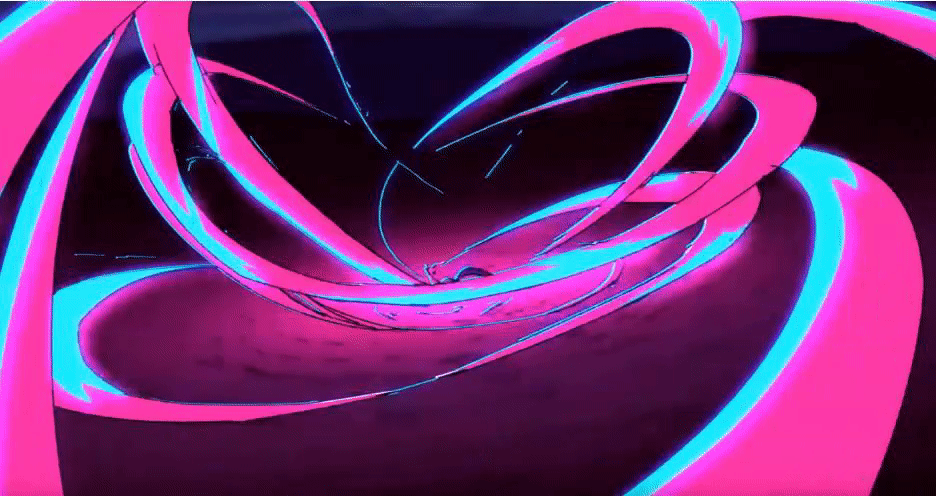 By 'linking' the animations like so: the audience can easily follow what's happening. Compared to if they were on the other side of the screen.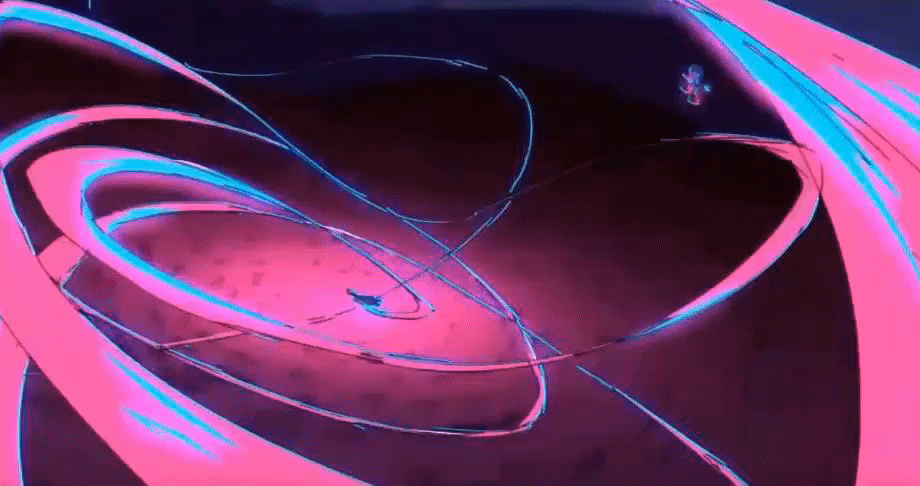 It also helps to remember what pose your character was making in the previous 'scene' so they don't look like they flipped directions.
---
Zoom ZOOMS.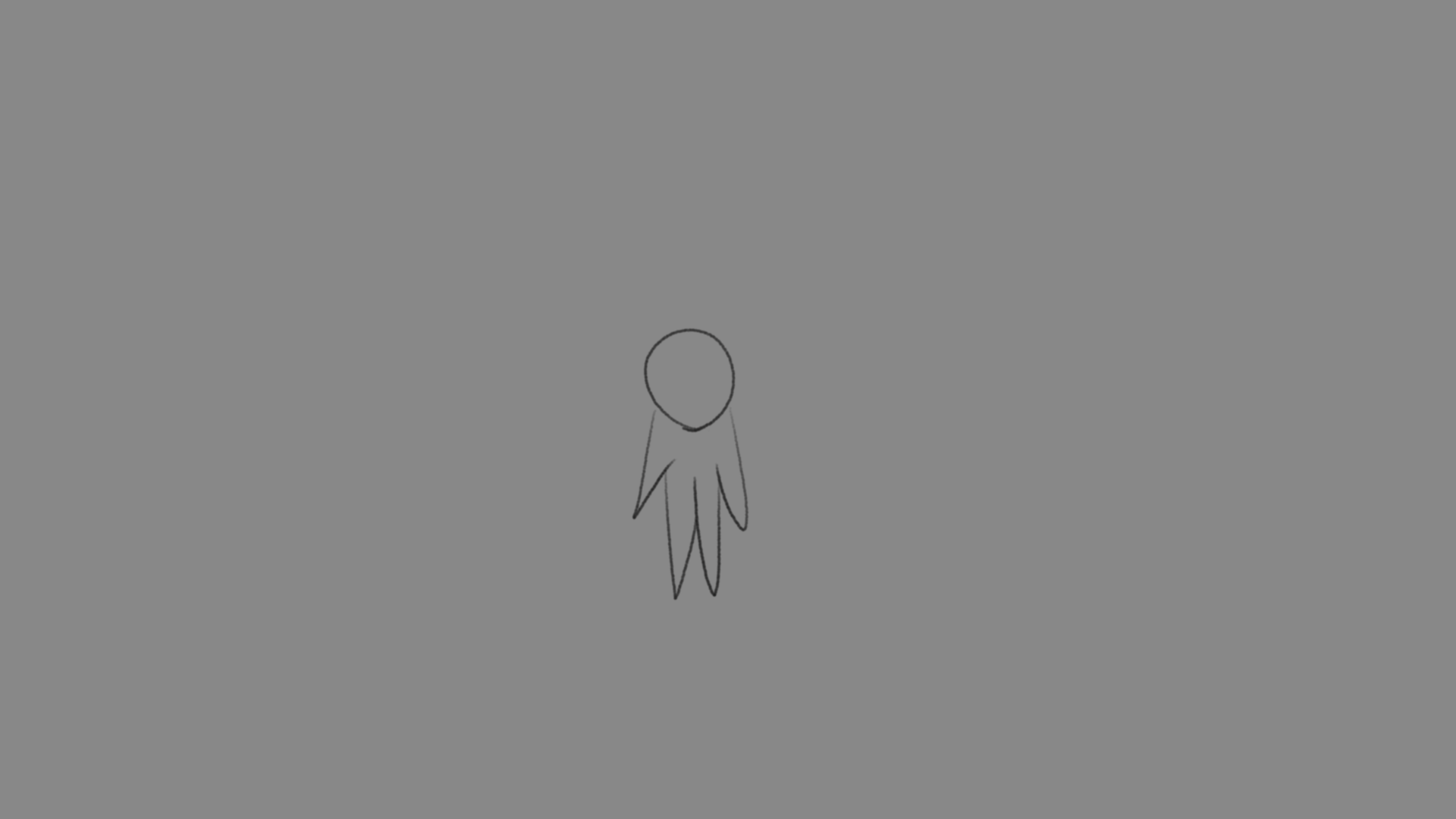 Zooming a scene in or out is an easy way to add more to a scene. Zooming out shows scale. Zooming in shows the opposite. The closer zoomed in your characters: the closer the audience feels. By getting them closer it helps them feel the tension of the scene.
Decide what best supports the 'feeling' of your animation. Want it to emphasize how empty the area is? Zoom out. Want to show how crowded it is? Zoom in.
---
Build-up and payoff
Another little tip I've got for you all is going to once more borrow from Gildedguy. His animations are a great resource to watch.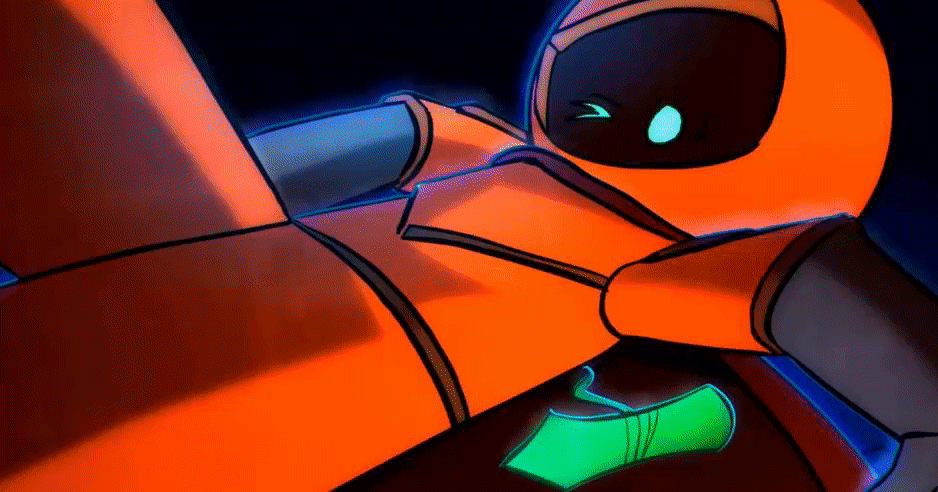 This moment in the larger picture is relatively small. But it is a great example of build-up and pay off. Build-up is when you place a gun on the table. Payoff is when you fire it. You introduce something: and then it comes into play later. Sometimes called Chekhov's gun.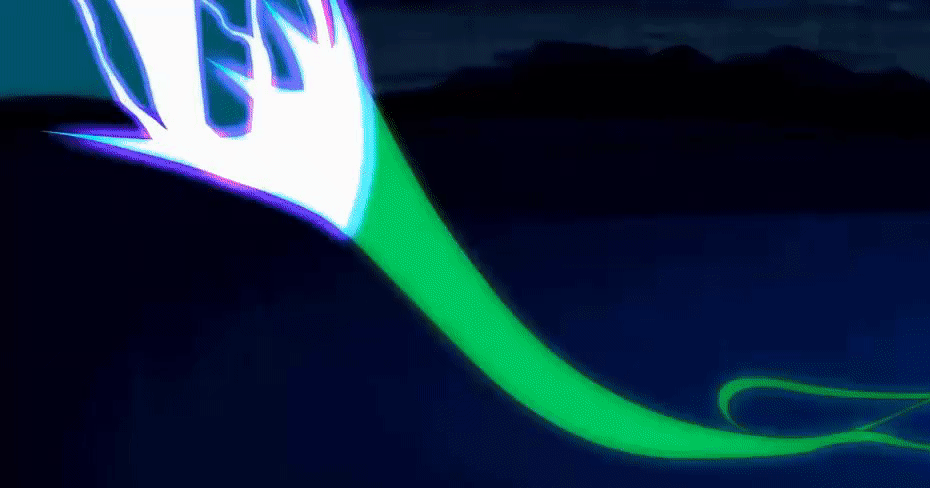 Build-up, payoff.
These are minor moments: but if you watch to the end of his animation there is one more: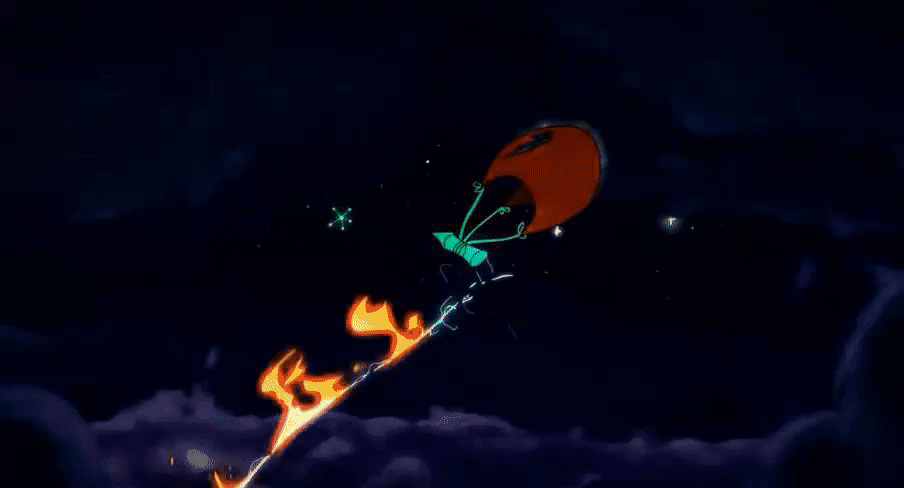 Small things like that are through the entire animation. And it is a useful tool to bring in more impact to a scene. Some homework for you: look up and watch any animations on anim8 and see if any make use of these techniques.
---
Weight and Distortion
Weight and Distortion are components that help greatly with easing They can add extra 'oomph' to a moment. It is recommended you read the tutorial on easing in correlation with this topic, if you are not already familiar with it.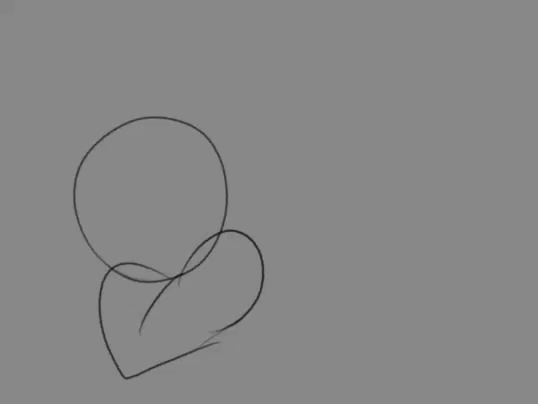 Weight is the 'impact' behind an action. A simple shorthand is this: the more frames you dedicate to it: the more impact it has. Don't be afraid to really stretch out a moment if you want it to have impact. Something as simple as the ground cracking as they jump can greatly add to impact.

Don't be afraid of spacing your frames out 2 4 even 8 times. Your canvas is a moment trapped on a keyboard. Too close together and people won't be able to appreciate it.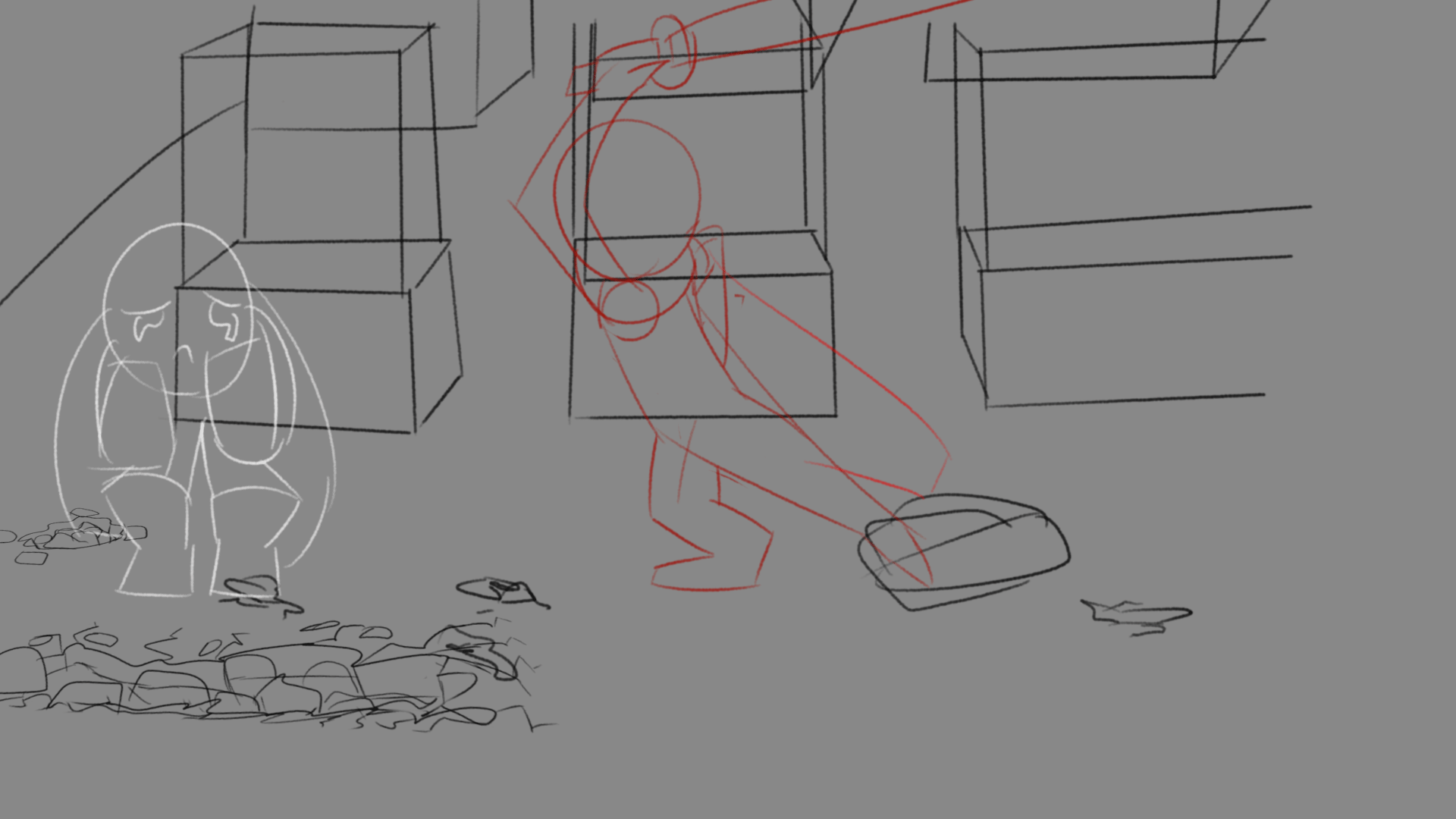 Distortion on the other hand is intentionally blurring something to indicate a fast movement, or squashing it and stretching it. Say a sword is swinging. By making a 'blur' frame you imply its moving fast. Compare it to the same scene without the blur and the sword doesn't have as much impact.
Don't be afraid to get messy and derpy!
---
Constant motion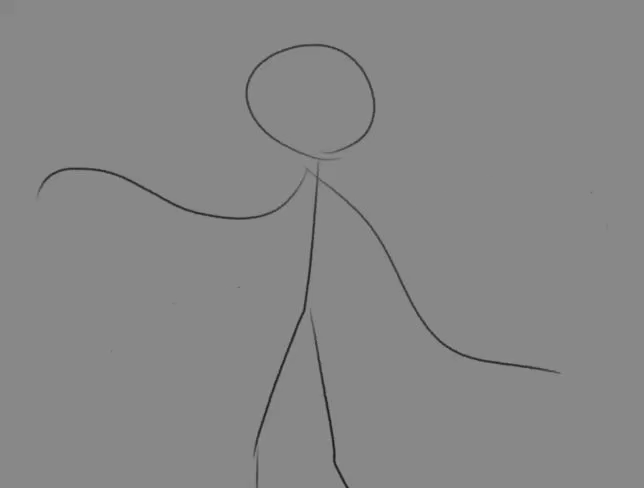 Note: this does not refer to motion during a fight: but more to constant small movements. Eg: breathing. Unless your animation is focusing on it: you can get away with not showing it. Think of it like the icing on top of a cake. Sure it may make it look great and wonderful: but the cake will be delicious without it. And you don't want to drown the cake in icing.
By that point you might as well just eat the icing alone.
---
Where are my eyes going?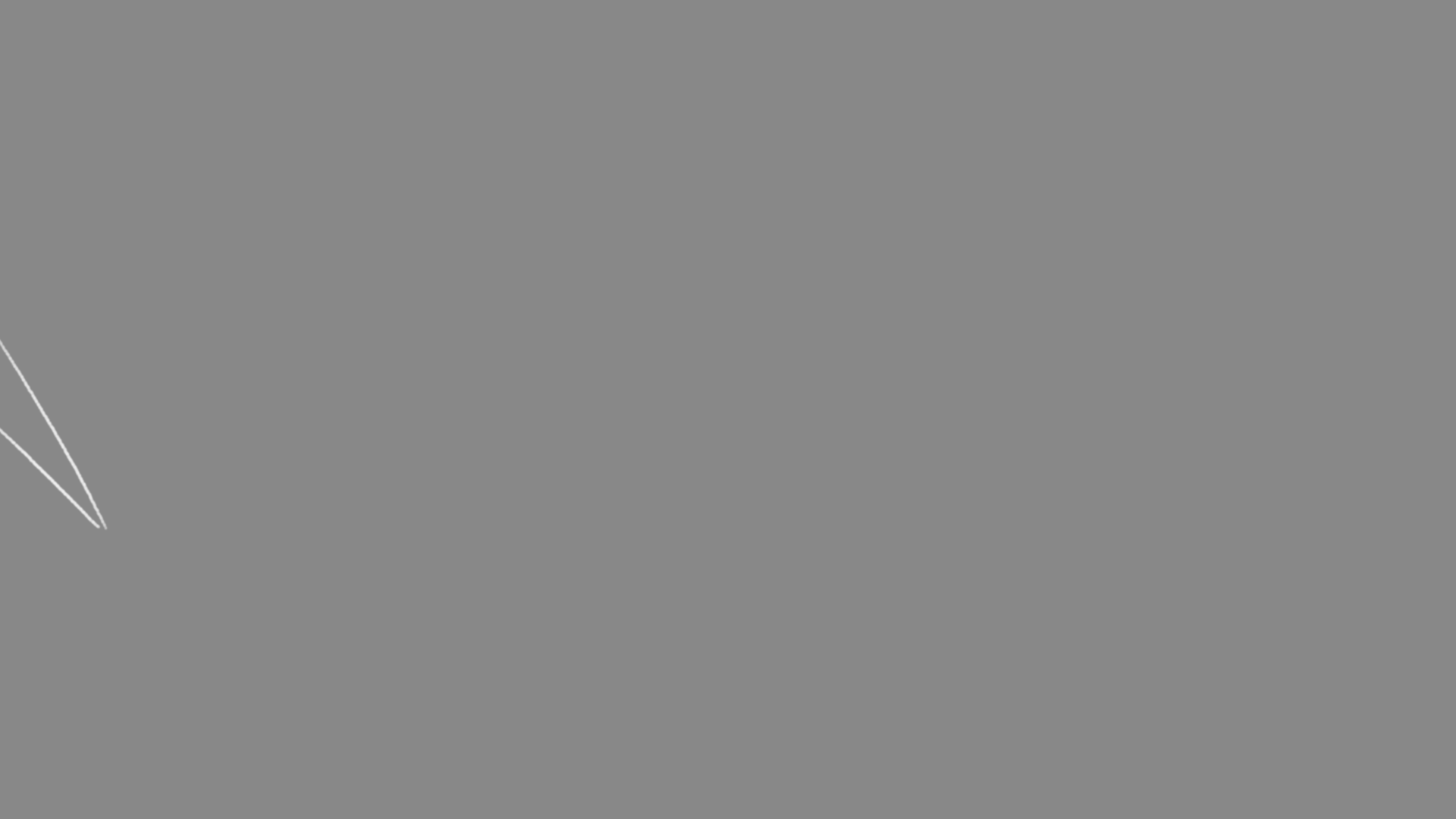 When watching your animation back: pay attention to where your eyes are being drawn. If they're flicking in all directions: you may want to edit the scene so the eyes flow more fluidly over the animation. Think of it like a roller-coaster. You want flows and rises and falls. Your eyes are the first ones that get to see this roller-coaster: you want to make sure it's not too jarring.
So pay attention to your gaze: ask 'why am I drawn here' and 'does this flow into the next scene ok?'
Don't be afraid to add a few more frames to transition if needed!
Conclusion
Just because a medium is 2d doesn't mean you cannot use 3d mediums to better enhance and make your animation more dynamic and fluid. By understanding how action is shot and set: you can better understand where the audience will be looking at, and what areas need work. PRO TIP: If you've not watched the scene over and over at least 10 times: you've not checked it over enough.
Remember that no rule is a constant and simple 'do this' situation. Sometimes they are made to be broken. But by being aware of how and when to break them: you can give your animation a truly special and unique feeling. Don't be afraid to get messy. It doesn't matter if it looks unpolished. Sketch sketch sketch.
Make many drafts, never give up.
---
Special thanks to Gildedguy for permission on using his animation for this blog.